The Orphan Hosting Program is a part of Children of All Nations non-profit organization.
Children of All Nations (CAN) is one of America's leading international adoption agencies. CAN is dedicated to improving the lives of children by constantly reaching out to nations around the world to place children and give humanitarian aid on a global scale.
Drawing on over 20 years of experience in placing children, advocating for improved legislation and international relations, and initiating charity programs focused on child welfare, CAN has opened its doors and hearts to a new world challenge.
Children of All Nations is built on the solid foundation of a fully Hague accredited 501(c)3 non-profit organization with the highest of service standards.
About Our President & CEO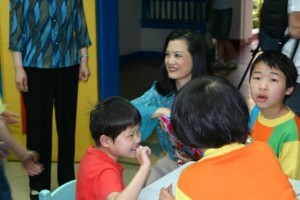 Snow Wu is a native of China who has worked for more than a decade on behalf of China's abandoned children. Under Snow's leadership, Great Wall China Adoption has become a Hague-accredited international adoption agency that is nationally and internationally recognized for assisting the US and China in improving the adoption process and the laws that protect children. Because of her dedicated efforts for China's children, the US Congress awarded Snow an Angel in Adoption™ award.
Snow founded Children of All Nations in response to the ever-changing needs of orphaned children around the world and the challenges adoptive families face. International programs including China, Haiti, Latvia, Bulgaria, and many others provide families more adoption options, as well as an opportunity to get involved in their adopted child's home country.
Traveling abroad to work with foreign officials, Snow Wu has developed programs focused on adoption and humanitarian aid. Her experience in African orphanages made a lasting impact that further motivates her to make positive changes. The joy in faces of children who have so little made an indelible mark on Snow's heart, and she continues to be inspired by their strength.
About Hosting

Our dedicated hosting team runs Latvia Orphan Hosting, twice a year. This provides as many opportunities as possible for orphans to experience the love of a family and to forge relationships they might otherwise have never had the opportunity to know.
Our team participates in interview trips to meet the children – if you're interested in supporting Orphan Hosting, please contact us to learn how you can help.