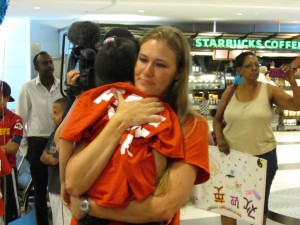 Since we launched Orphan Hosting, we have learned that the most powerful voices for the children in our programs are YOURS! We have seen many of our children matched with a host family who came from the work of volunteers. It is through YOU that we can make sure that every child who needs a family gets one.
If you aren't looking to host but are looking for a way to directly impact the lives of the children who need it most, become an advocate and spread the word about Orphan Hosting!
You're the ideal candidate if you:
Love helping the orphans who might get left behind because they are older or have special needs
Enjoy sharing information about children in need – especially via social media and online
Can talk to your friends, families, and neighbors to reach as many people as possible about our program
Want to be an ORPHAN WARRIOR!
If you have a hand to lend for these children and a desire to spread the word to change the life of just one child, we would love for you to be an Orphan Advocate!
Want to Get Your Church Involved?
If you would like to have your church participate in Orphan Hosting, whether it's through sponsoring a specific child or family through hosting, please contact us. We're also happy to speak with your church or group about Orphan Hosting.
Think You're Ready?
If you'd like to volunteer, get in touch with us! Contact us at info@orphanhosting.com and we'll send you some information on using your voice to help children in need.