About Hosting
Orphan hosting provides children an amazing opportunity to be loved by a family and see life outside their orphanage, but more importantly, it connects potential forever families to these children who may never have had a chance at being part of a family. Our goal is for ALL of our adoptable host children to be adopted after their first host trip, whether by their host family or their host family's community members, extended family members, or friends. Our host families are strongly encouraged to participate with a strong interest in adopting their host child, and at the least, should be committed to advocating on behalf of their host child to find them an adoptive family during their time in the U.S. Most children available for hosting through our program are available for adoption.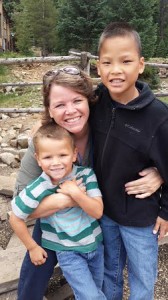 Orphan hosting is also a great way for your family to get to know an older child before you commit to adopting them. It can be intimidating to adopt a child you've never met before, and it can be stressful to take that leap of faith that the family dynamic will work out when bringing an older child into your family. Hosting an orphan is the perfect way for you to not only give the child a chance to have an amazing experience outside their orphanage with your family, but also brings your family together to accept another child into your home and your heart.
Our hosting programs are for 4-5 weeks during the Summer (typically anywhere between late June and early August) and our special holiday program is 4-5 weeks during the Winter (typically mid-December to mid-January). Many orphans have never spent a holiday with a family, and those who have often have not spent a holiday with a family in many years. This is why the holiday program is close to our hearts. It's a chance for you to share the love of your family as the biggest holiday gift one can give to a child. It is truly a moving experience for both the family and child to be hosted during a holiday program.
All fees associated with Hosting are considered tax-deductible donations.