Another incredible day for the books. I was able to catch some of our previous host kiddos (my little friends!) from this past winter's program. I'm excited to be bringing home photos and videos even for just a few of these families who wait to bring their child home. A few of our families from last summer's program recently returned with their kiddos, and it brings full circle the realization that there are always more orphans to help. It's perfect timing – as some children go home forever, some children are about to arrive for the first time this summer, and I move forward to help the next group toward this opportunity to leave the orphanage and find their family, too.
Our hosts at the orphanage are always so gracious in helping us locate a few of the children whose families will be coming soon to bring them home as well. We were able to take a few photos and videos and can't wait to share these with their families!
Something people may not know about our interview trips in China – we don't get to visit every single orphanage. Often, children will be brought to a single interview location to meet with us. The kiddos are usually shy and sometimes a little scared. Today we met children from 3 different orphanages. One by one we played with them, asked them questions, and did our very best to coax them out of their shells to give light to who they are. Although we saw many smiles, laughs, giggles, and happiness, a sense of emptiness always lingers in the room.
One handsome little guy stood out today – if you followed our photolisting last program, you know that we give each of the children nicknames since we can't use their real names. This dude has already earned the name Mr. Smarty Pants! He loves to go to school at the orphanage; there isn't a class he doesn't like or a subject he isn't good at! With quite a few awards under his belt for his school work, he happily showed off his math skills for me. When asked what he wants to be when he grows up, he quickly responded, "A policeman!" He sat with me for a bit while I continued to take notes and played a few games on my computer. This is a kiddo with both the brains AND the heart to thrive, given the chance.
Last trip I played the role of interviewer, but this time I'm recording everything that happens. It means I interact with the children less, so my favorite moments are the times the children come to sit with me as they wait their turn or watch their friends finish up. One little girl even rested her head on my arm, and I could feel that, even though some of the orphanages we visit provide quality care, these children need the loving touch of a family. These sweet moments are the ones I want to hang  on to, knowing for that moment a child felt secure resting next to me for just a few moments. It is humbling and unforgettable, seeing the older children who wait quietly for their turn to be chosen, not just by a family, by their family.
We finished the day around 3 pm, but no bus for us this time! Adiós unidentifiable meat product! We hopped on a high speed train, which went 100 MPH! Our destination wasn't too far, so I didn't get to see the countryside zipping along at 200 MPH, the speed it usually goes. Immediately upon arriving, we noticed the drop in temperature, which was a welcome break from the stifling heat in Guangzhou. You'd think, as a Texas girl, I'd be used to the heat, but air-conditioning is one of those sneaky things you don't appreciate fully until it's gone. Many of the orphanages cope with that lack by being open air to allow breezes through the hallway. It means children are often fairly hot in the summer and bundled up in the winter.
Our hotel is a little rough around the edges, but we're a light-hearted group who can laugh our way through anything. Dongguan is a beautiful coastal city, and I'm excited to "settle in" a little bit for the next four nights. Up until now, it's been a new bed, new hotel every night since we arrived. I'll take a little dinginess to get to stay put for a little bit. On the return trip from a walk to the market, we passed the back side of an orphanage we'll soon visit. Through the gate, I could see some of the caretakers and a few children sitting quietly on the stools outside. In the evening shadows cast by the building, I realized I could recognize one of the little faces waiting there.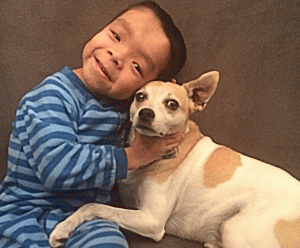 Zane is still waiting for his forever family. Is it you? Contact mallory@gwca.org for more information on the host children left waiting.
After spending months working for these host children, you become familiar with each and every face that you've grown to love. When they arrive with a host family, upon return home, and in the lingering, heart-wrenching period as you advocate, knowing that hosting doesn't work for every child, but why, why can't it work for this one? I was so excited to see him that I half-called his name, then pulled back, realizing to myself that he will have no idea who I am; the adults watching over him might wonder who the crazy American lady is yelling at one of their orphans like she's found her own child. As I stood there watching his little face in the darkness, my heart broke to see him like this, without a family, the love and security of a mom and dad, his mom and dad, that I know and believe are out there waiting for him somewhere. The shadows of that orphanage and his face will stay with me until I know his family is found, is coming to take him home.
Read More