We can't believe it's finally here – this week and next, children from two of our amazing Orphan Hosting programs will be landing here in the United States to meet with their host family. It's a wonderful time of new beginnings and sharing for the kids. This Friday, our children from Latvia will touch down on the East Coast and then head out with their host families to spend the holidays together. Next Friday, our children from China touch down on both coasts, East and West, and spread out over the United States!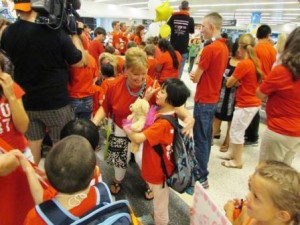 If you've ever wondered what arrival days are like, the chaos of the photos gives a good indication! It's a blur of TEAM CAN t-shirts, smiles, hugs, a little bit of shyness, and a whole lot of love. For us, it's the moment we get to see all the work that's gone into hosting come to light. It's the first moment it becomes real – a child steps out from the doors, and we start to see families born.
Since our hosting programs have launched, we've seen the change that hosting brings, in both the children and the families! The biggest surprise we love to see is that families talk about how hosting has affected their lives in little and big ways. To keep up with the journey that families are going through, continue to follow our blog for our Uplifting Moments Blog Posts. It includes some of our favorite moments from hosting – the "moment of the week" from families when there was a little bit different light in their host child's eye, the first hug, the first bike ride…all those little moments you remember as a parent that these families now get to experience in the span of one short hosting program!
The children are here through January, and then of course, the next group of children will need advocacy. If you're interested in learning more about either becoming a host family or becoming an advocate for these amazing children, please reach out to us! You can find out more by contacting info@orphanhosting.com or by calling (512) 323-9595 ext. 3102.
Thanks for following our families' and children's hosting journeys!
~ Shannon & Cayce
Read More